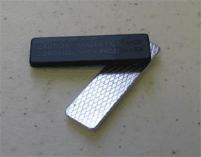 Badge Magnets
Badge magnets are magnetic badge attachments. Replacing traditional badge pins, badge magnets are clothes-friendly: no more pin holes or possible tears on your favorite outfits.

Each set of badge magnets consists of two pieces: a peel-and-stick piece to be attached to the back of your badge and another placed underneath your clothes. The first piece is mainly made of metal with an adhesive side, and the peel-and-stick design makes it very easy attaching to the back of your badge. The second piece has two or three magnets that are strong enough to guarantee a secure hold of your badge.

There are currently four products of badge magnets available, which meet most applications. However, if you need something different, please contact us. CMS Magnetics will provide you the best solution to meet your requirements.

All our badge magnet products are made of licensed high quality magnets with nickel plating.