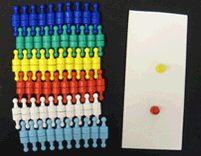 Magnet Push Pins
These are wonderful items for homes, offices, schools, warehouses, restaurants, and others! One of those magnetic push pins can hold up to 16 pieces of 20 lb paper!

Super strong neodymium magnets are encased in plastics and have unbelievable holding power. They can be used to hold notes, time tables, flow charts, road maps, restaurant orders, etc., to any surfaces attracting magnets. These are fun items to have!

Please be careful with choking hazard, and keep those small items away from children of 5 years old or younger.